CITADEL
®
AN OFFICIAL SITE FOR THE ORIGINAL ROCK BAND CITADEL®
A Registered U.S. Tradename - Since '79 - Indie From the Start - The Progfest Co-Founders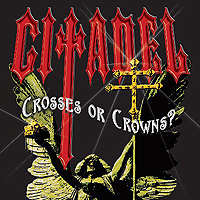 The Newest Citadel CD is Now
Available! Click the Picture!
Citadel ® In Your iPod!
Quick Link To Apple iTunes - Citadel ®
You can find Citadel ® Swag at Zazzle:
Citadel ® D'ANthologie 1 Merchandise
Even More Zazzle Citadel ® Merchandise
There's Citadel ® Swag at Spreadshirt:
Citadel ® at Spreadshirt:
And a full Citadel ® Store on Cafepress:
Citadel® on your Dog, Body, Wall, Bumper, Table or Mail?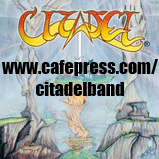 THE CITADEL® GALLERIES:
CITADEL® VIDEO GALLERY
Live & Studio Vids from DVD and Television
Uses Windows Media Player, RealPlayer, Quicktime or other Compatible Players..
CITADEL® PHOTO GALLERIES
CITADEL® Archives Page 1 Fletcher: Shows & Studios
CITADEL® Archives Page 2 Shows, Studios, Videos
CITADEL® Archives Page 3 Gigs, Grabs and Garages
CITADEL® Vintage Vinyls Lyric Booklet Pix
Page 1 - Page 2 - Page 3 - Page 4

---
CITADEL ®
Is A Registered U.S. Tradename
"Since 1979 - The Progfest Pioneers"
Used With Exclusive Permission - Do Not Replicate, Copy, Share or Sell Without Proper Consent


www.citadelsongs.com - www.citadelband.com - www.citadelmusic.org - www.citadelmetal.com
are all registered to W.E. and Citadel of Cynosure Productions on behalf of, and with exclusive consent of the CITADEL® band, agent & publisher.
No other sites are officially endorsed nor permitted.


Material Contained within this site is © G. Whitman (BMI)/K. Whitman (BMI)/Whitman Enterprises (W.E.) Citadel®/Citadel of Cynosure Prod (BMI)/Polaris/RMD
Over the years, many bands have infringed on our registered US tradename and called themselves 'Citadel 'as a reflection of their lack of originality and limited imagination.
Accept Only The Original Citadel!
Official Facebook Page

®
Background Image:
'Vasse Waterfall' extracted from the cover of Citadel's debut release,
"The Citadel of Cynosure & Other Tales" by RMD/GW